NOTE: This is a bonus movie file, which is included with our regularly scheduled photos above.

Footjob Movie File
This Windows Media movie file is from Melina and Jerry who tell us,
"Here is the first of several movies that we made. Luv, Melina. XOXOXOXOX."
This particular movie was titled, "Melina makes Jerry Squirt."
The other movies mentioned above are scheduled to be
published on-line in the very near future, so stay tuned!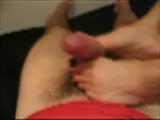 (Click the thumbnail photo above to reference the page that links this movie)

This movie file was uploaded to the site for the update of Monday, August 23, 2004.