My Sex Starved Lodger
Published on Sunday, January 23, 2010

This story was submitted by Kate at kate@helmarhb.eu.


My name is Kate, and I am a married woman from the UK. I do not want to give my name as my husband does not know about this. We took on a lodger, a university student, recently. This was to help our finances. However, unbeknown to my husband, it has also boosted our sex life as cock teasing the young man, although it sounds cruel, is a real turn on for me.

He is studying physics and is a typical "nerdy" type. Add to that the fact that his course is 99% male, and you can understand that he is extremely sexually frustrated. During summer it is fun to lounge around in my bikini. What I noticed was strange was that, although my boobs were clearly visible, he kept looking at my FEET.


One night he got very drunk when he went out with a couple of friends who had picked up a couple of girls, and were fucking them. But he could not pick up a girl, and got really frustrated. He was so drunk he blurted out about his foot fetish, and said he thought my feet were gorgeous. From that point on I took every opportunity to put my bare feet on display for him, and it was driving him crazy. I even jerked off my husband with my feet one night, and made sure that Mike, the lodger, could hear every detail, yelling out things like, "Do my fucking feet feel good on your cock?" His level of frustration was unbearable I would imagine.



A few weeks later when I was swimming at a local hotel, I got talking to a young waitress who worked there. We were in the shower. and I noted she had pretty feet. She jokingly commented that she should tease the fuck out of my lodger. To my surprise she said the idea got her wet, so I told her where Mike usually goes to try to pick up girls. She told me that it would be easy to use a hotel room where she worked and undress him.


To cut a long story short, she picked up Mike, and took him back to the hotel to use a spare room. She told me that Mike was literally shaking with excitement. She asked Mike to lie down on the bed, and he nearly came when she pulled off his underpants using her bare feet. She teased him about how she had caught him looking at her feet all of the time. He was going crazy when she caressed him all over with her feet. She told me that his hips were bucking, and he was gasping and moaning with delight. She giggled when she told me how it was obvious he had never had sex before, and she had never seen a guy so hard.


He agreed to let her tie him to the bed, promising him an incredible orgasm. He reluctantly agreed, and she spent the next hour licking him all over, sucking his cock and balls, and rubbing him all over with her feet. Just as he was about to cum, she stopped, leaving his cock twitching in agony. She finally told him she was going to get another girl to join, and he could not believe his luck.


She phoned, and another girl, apparently from the Ukraine, turned up, and they both stripped very slowly. Precum was literally dribbling from his cock. The other girl and Leena lay on the other bed taunting Mike, and made each other cum several times. Then they simply dressed and left him lying there, giggling as they left the room.

When she told me about this, I got so excited. I could not wait for my husband to come home and get fucked. My orgasm was incredible. And ,of course, I made sure Mike heard it! Cruel I know, but a real buzz for me! I have included a pic of Leena, but, for obvious reasons, she did not want to show her face.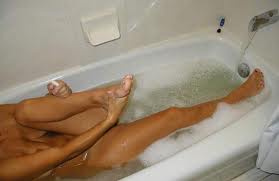 - The photo above is already at its largest size -
By the way, I am looking for another woman, maybe from this site, to join me in doing the same thing to a young guy I met via another dating site. Let's see if we can keep him on the edge for even longer than Mike was! You can email me if this idea gets you wet. It certainly gets me wet! x x x
This story was submitted by Kate at kate@helmarhb.eu.

To read Kate's next story, click Foot Licking 69 With Dawn and Kate.

Feel free to submit your comments about this story in our free foot fetish chat forum.
To do this, just click here for the story section topic to make your comments public.