My Stolen Sandals – Part 2
The Sandal Thief Reveals Himself

Published on Monday, January 17, 2011
This story was submitted by Didi.

To read this author's 1st story, click A Challenge To Make A Guy Cum With My Feet.

Feel free to submit your comments about this story in our free foot fetish chat forum.
You can also see photo contributions from Didi here in this topic of our chat forum.


Editor's note

:

This story was published "as is."



Stop! Before you read this story, make sure you read my previous story "My Stolen Sandals". This story won't make much sense if you haven't. If you haven't read any of my earlier stories, you should probably start at the beginning – my first story to be sent in to greatfeet.com which was "A Challenge to make a Guy Cum with My Feet", you can then follow the links to my more recent stories and will know who all the referenced people are in my sandal theft saga. Below is one more pic to remind you of what my sandals looked like.
- The photo below is already at its largest size -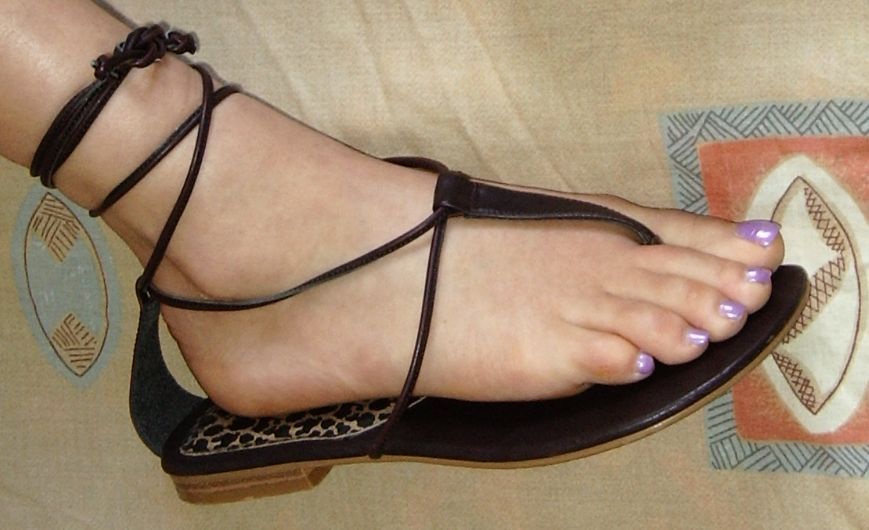 - The photo above is already at its largest size -


So as you will now know, I wrote about what happened to my sandals over the New Year weekend. At the end I appealed to my sandal thief to come forward and reveal himself. I didn't even know that he visited greatfeet.com but I hoped that he did. The story was published on greatfeet.com on Thursday 6th January.

W

ithin a couple of days, I received some great comments about my story including some guys who were angry on my behalf. I think the common term for my sandal thief was 'little bastard'.

Then it all got a little bit strange, first one guy claimed to be my sandal thief and then the next day, two more did the same. Points for trying boys, but I'm not stupid. The first guy gave himself away with his American terminology, which proved he couldn't have been Australian and therefore couldn't have been around the camp kitchen. The second guy made less bold claims and kept his message very general, but as soon as I asked him for some proof, he admitted that he was just "trying it on", it turns out he was English. The third guy's claims were so ridiculous they were funny. It was so obvious that English wasn't his first language and after questioning him and trying to see how far he'd go, he relented and told me he was from Malaysia.

Then, the thing I was hoping for actually happened. I got an email from an address I didn't recognise. My sandal thief not only was a follower of greatfeet.com, he'd actually found the balls to make contact.

I have copied and pasted what he said below, after some advice from the greatfeet.com webmaster I decided it best if I didn't put the thief's email address here, so I only copied the text. I make no excuse for his spelling mistakes and grammar as this pasted what he said unedited. Here it is:

Hi Didi
It is me - Mr Footsucker. I love that you called me Mr Tasty Cum!

I've just read your story on greatfeet and the pictures are the best Ive ever seen. I feel a bit ashamed about what I did now and i can't really complain about you writing about it can I. You have the right to out me I suppose. Infact I find it quite exciting that you did. I bet lots of your fans hate me now and also some who are jealous! HAHA.
So I actually met THE Didi Marika. I can't believe my luck. I have followed your adventures on the greatfeet web site for years. WOW!
I jst have to say, you don't look anywhere near 35. From your story didi-the history behind a footslut part 1 where you said you were 19 in 1995 this means you are probably 34 or 35 now. When I met you, i thought you looked 23 - 25 at the most.

I didn't realise that you were the Didi that I had read so much about and seen so many pictures. If i had realized I would have deffo exposed myself to you. Your friend Fiona kept calling you D and i thought that was short for Deborah or Diane or something.
Look I'm really sorry that I kept your sandals. I was torn about whther to return them or not. I hope that you are not to upset. I will look after them. Maybe we could arrange for their return? I want to see pics of the new ones you buy with my $50 maybe we could do a trade? Maybe you could even swap another pair of your well worn sandals for me to lick in exchange?

Your feet in the flesh are even sexier than in any pic i saw on greatfeet. I'm so surprised that you don't model them. You could do sandal modeling or even toe rings or nail polish, they could use your feet in the avon catalogue that my mum uses as there are loads of foot prodeucts in it. Your feet are far better than any i've seen on posters for sandals etc. If you do already model can i see some pics?

Since Monday I've licked your sandals probably 50 times. They taste amazing. They smell incredible too. 7 years of wear, wow, no wonder they smell and taste so good. I probably licked about 2 years worth of your sweat from them already! I also put the left one on my dick and tied the straps tight around my dick and balls and used it to make me cum. I don't think i've ever cum so much. And yes I did use the right one to catch the cum. Sorry that I've been abusing your sandals but i have them now so I may aswell get loads of enjoyment out of them.

I have attach a pic of your sandals so that you know it is genuine that I have them. As you can see, my dick is in the frame and my cum is all over them again. Please dont publish this picture - i hope it will be private between you and me. I know i don't deserve that after what i did but maybe I can put that right?

I'm not sure that the pic does it justice, but I think you will like my dick, it is very thick. You are always very descriptive about the dicks you play with so here is my stats - it is straight without curving, is 7 inches circumference and just under 5 inches long. The head is about the same thickness as the shaft. From your stories you seem to like exposed heads but although I'm not cut the foreskin pulls down all the way as you can see in my pic. I know you like red or purple dicks and as you can see from my pic my dick is very red. I get very very very very very hard and I mean very and can cum multiple times. Would you like to see some more pics? Maybe you would evn like to suck it? You always suck dicks in your stories and I know you already like the taste of my cum!

I have loved all your stories and am happy to have new been in one. I would really like to meet up with you again. Maybe we could have some fun togther that will lead to another story. What do you think? I'd love a foot job like in your pics but I'd be happy just to suck on your toes and cum over your feet. I hope that if you saw my dick for real you would want to suck it too or maybe more.

By the way, my name is Blake, I was the blond guy at the camp and if you remember i am built just like my dick - short and chunky!

I have to go now, I am about to lick your sandals again! Sorry again for the theft.

Mr Footsucker. (I got the name from a book by Geoff Nicholson, you should read it if you haven't already)

So Mr Footsucker's email checks out and the picture he attached was indeed of my sandals with his cock and cum over them. I have reluctantly followed his wishes and not attached his picture, although I was tempted to do so.

Below is my reply to him:



Hello Mr Footsucker, although as a sign of gratitude for you revealing yourself I think I'll call you Mr Tasty Cum!

First of all, I want to say this: Why the hell didn't you reveal yourself to me at the campsite? Imagine the fun we could have already had.

I'll address your email points now:

- Thanks for the compliments about my feet, you aren't the first to do so, but I still appreciate any comments I get.

- You should feel ashamed and yes I do have the right to out you in the way that I did.

- There have been a few emails condemning you for what you did, but there were also a few who wished they'd had the opportunity with my sandals that you had and a couple even said they would have kept the sandals too.

- You were the fourth person to claim to be my sandal thief. Luckily for you that I didn't entertain the other three. How would you feel if I'd struck up a relationship with one of these guys and he got to enjoy my feet and not just my sandals?

- Thankyou for the compliments about my appearance, I have been told before that I look younger than my age. Never quite as young as 23 though! Flattery will get you somewhere!

- Whether you realised who I was or not, you should have revealed yourself as soon as you realised that I wasn't offended by finding your cum in my sandals. Even if you had waited until the last night.

- Fiona has always called me D. I don't know why really, but I quite like it.

- You say you are sorry about stealing my sandals and then go on to try and blackmail me with them and tell me about the things you have done to them. I'm not so sure that you are that sorry.

- $50 won't come close to replacing sandals of that quality. But as I said in my story, I will buy sandals with the money. You never know, I may even post pictures of them on greatfeet.com.

- Do you really think that I will exchange another pair of sandals for you to abuse, just so I can get the ones you stole back?

- Thanks for the modelling comments. Again you are not the first to suggest this, maybe I should look into it. It could be a way of making some easy money.

- So you get kicks from the Avon catalogue? All of those pages of nail varnish, toe rings, foot creams etc. Ha!

- I also use Avon and I've never been that impressed with their models' feet. Maybe I should audition?

- Not wanting to freak you out, but there's probably more than just seven years worth of my foot sweat soaked into the leather of my sandals. You do realise that both Walt and VL have cum on those sandals too don't you?

- The sandal-job you gave yourself does sound exciting, now that is something I would have been interested in seeing!

- I don't know why, but I will honour your request not to publish your photograph. You are right about not deserving my cooperation, but I am a good person.

- I do expect you to "put it right" as you say.

- You are also right about the picture not doing your cock justice. If it really is as thick as you say, then yes I would be very interested in seeing more pictures (it does look very red in the picture though, so I believe that aspect).

- If your cock is as hard as you claim, then not only would I like to suck it, I would want to feel it inside me too. It does sound appealing, so much so that I think I want to ride you!

- I did say in the story that I liked the way your cum tasted, so to suck you off would also be very appealing to me.

- I'm glad you like my stories and it is exciting that you are now one of the stars.

- I think I would like to meet with you again. Your description of sucking my toes and then shooting your load on my feet does sound like fun (especially if we did it in a public place!).

- Blake? Really? I never would have picked you out. How did you manage to look at my feet so much without me even noticing? You are very good at being sneaky!

- You were nice to talk to, I must admit. I really enjoyed your company each evening. You are a fool for not approaching me then.

- How the hell did you watch me each day outside my tent without me seeing you?

- I had never heard of Geoff Nicholson, but I've just checked him out on Wikipedia and then looked up his book 'Footsucker' on Google, it does sound erotic. I will have to see if I can get hold of a copy.

- I still think Mr Sandal Licker is a better name for you! Although Mr Tasty Cum works for me too.

So where do we go from here Blake? The ball is in your court.

Luv, Didi.

So that was how I left it. I had responded to each of his points and had put it back onto him to make the next move. I didn't have to wait long, he responded the same day. His reply is below:

Hi Didi.

I think I prefer mr Tasty Cum to MR Sandal Licker but I don't care as long as you keep writing to me. I do wish now that I had revealed myself to you. I can only imagine the things we could have got up to.

You say that your fans condemned me as much as they envied me. I don't really care about them because I did what I did and we cant go back.

You say im sneaky but those fans of yours lied when they said they stole your sandals. 3 of them to, how cheaky are they? You wouldn't fall for that I know.

I am so happy you liked my cum and I know I am lucky that you didn't report me for cumming in your sandals. I am genuinely sorry that I stole your sandals. I really couldn't help myself.

I didn't lie when I said you looked young. You do look early to mid 20s. I would be happy to have you on my arm and im only 22. your friend Fiona was cute to. How old is she? She also looked in her 20s. Nice feet on the girl aswell, just not as good as yours. I do like green nails by the way and I am not old fashioned. I thought you should know that.

I think $50 could buy you some really nice sandals. If you wnet to kmart you could probably buy 2 or 3 pairs with that. I know they are cheap because I like looking at the sandals in their shoe aisles.

I think it is a fair exchange to return your sandals for the chance to lick some more clean for you. What do you say?

I did mean the modelling comments both at camp and in my email. Your feet really are good enough to model. I hope you will one day. There is one girl in avon who has nice feet but the others as you say are not so good. You could do all of there modelling. I have had some fun with the avon catalogue and I don't care if you try to embarrass me because of that.

I have read your stories properly and I know Walt came in these sandals. I didn't know VL had but I don't mind. I am sure their cum didn't soak in like your foot sweat did. It wont stop me licking them over and over. I wish you were ther when I did the sandlajob with them. You would have been impressed. And thankyou for not showing my picture this is for you alone.

I have attach more pics of my dick and these ones are more of a likeness to the real thing. I hope you will continue to keep them to yourself. When I read your email I had one hand on my dick and came after reading what you said. I really am that hard so that should mean that one day I will get to bang you with my dick. I will let you ride me though if you want and I think that would be better for you. Have you had a dick as thick as mine before? I know you had longer with David, steve, the Samoan, Eric and it sounds like VL to. Were any of them as thick as me? Your stories are the best and sometimes I check every week hoping for an update. I want to star in more of your stories in the future. My dick is always hard for you and my dedication for you feet knows no bounds. I would suck your toes daily if you let me. I would evn give up the chance to fuck you if I could only get to suck your toes and lick your soles. Your public comment scares me but at the same time makes me want to do it. Where can we meet in public so I can suck your toes?

I hid behind the big gum tree at the camp. My tent was right next to it. I was never more than 30 metres from your tent. You did nearly catch me on the second night though so I had to hide behind your car.

Footsucker by Geoff Nicholson is my favourite book. I can identify so much with the main character. You really should read it. There is a whole section about how he stole ladies shoes and kept them in his basement. He even had like a display room for all of his foot material. I am not that bad, but yours are not the first sandals that I stole. I also know from your story Didi- the history behind a foot slut part 1 that Sam also stole a pair of your sandals. So I can't be that bad can i?

Where and when can we meet? I can think of nothing else. I can't sleep each night thinking about the moment when I finally get my hands and lips on your feet.

Please mail back to me.

Yours in hope, mr Sandal Licker!

He was starting to sound really keen and I was also struggling to sleep at night. The idea of catching up with this young and willing guy was really exciting me. I decided to make my thoughts known. What I said is below:

Mr Sandal Licker (Sorry Blake),

I liked your reply to my latest email. Your comments make me feel really horny. I don't think you and I could ever have a proper relationship because of the age difference, but I think we could at least have some fun together.

So you were into Fiona too? Are you some sort of Gigolo? Well she's in a relationship and is definitely not available. She is cute, I admit, but she is 35 too. Maybe our group of friends are charmed or something, we all look younger than we are! Her feet are good, but that is mainly down to the expert pedicures that I do for her!

Kmart is not a bad idea now that you mention it. They have some amazing sandals for very reasonable prices. I think that is where I will go with your $50.

I have started making enquiries about body part modelling and I have arranged an appointment next week with an agency for an audition and photo-shoot. I will go with an open mind and expect to be turned down. If I'm successful, then I'll celebrate and credit you with discovering me!

The sandal exchange is not going to happen. The only exchange you are going to experience is bodily fluids! And I'm serious about that, your pictures are amazing. Your cock is the sexiest I've seen in a picture. So thick and so very red and it does look very hard, I hope the real thing is as hard as it looks! Banging, riding, sucking and footjobs are all on the cards if your cock turns out to be as good as it looks! It's hard to tell from a picture, but your cock does look likely to be the thickest I've ever come across. The only ones close to it are Eric's and the Big Samoan's. Now that is a line up I like to see!

I think you could be my next 'Star', especially if we do something outrageous like a public footjob. I was thinking about either the cinema or the park. What would be your preference?

I can't believe you were behind that gum tree, it was so close. I should really have spotted you! Ah well, that doesn't matter now. I think we are going to have some fun anyway, so there's no point thinking about what could have been.

That book sounds good. I have ordered it from my local library so maybe I would have read it by the time we meet. Sam did keep my sandals and I never heard from him again, I hope we won't have that problem. So now I'm intrigued, how many other pairs of sandals have you 'acquired'?

I have a question for you. As you know from my story with David and Eric, I asked them who they thought had the best celebrity feet. I think they picked Lindsey Lohan and Ashley Judd. I was interested to follow up on that at the time and found that both actresses did indeed have amazing feet. Who do you think has the best celebrity feet? Just for my information!

We need to meet soon as you are driving me crazy again. My feet need your lips and my lips need your cock (and not just the lips on my face either!).

I think Kings Park (it's easy to get to and quite safe too) next weekend would be a good start, I have plans already for this weekend. Give me a time.

Didi.

I sent my email and eagerly awaited his reply. I didn't have to wait long:

Hi Didi,

I can't believe you are still writing to me. I keep expecting to wake u from a dream. I didn't say I wanted a relationship. I just want to have some fun with you and I know you are older than me, but I don't care about that.

Yes I did fancy Fiona to, she is very pretty – just my type being short, blonde, big boobs, cute face, awesome feet because of your pedicures? You are so much sexier than her though even though you are a brunette and have small breasts. Your face, legs, bum and feet are to die for. I always have been a bit of a legs man and yours are the best ive ever seen. Im pleased to hear that you are going to try and model your feet as I think us foot fans are desperate for some decent feet to be marketed.

Ok I accept that you don't want to exchange sandals especially if I get to swap some body fluids instead. I really do wan to fill your pussy with my cum. I think I want to cum on your feet first though and you wont be disappointed with my dick either as I bet you've nevr had harder or thicker!

I deffo want to meet you again and cant belive you really want to see me again. I don't have a preference so why don't we meet in kings park first maybe about 3pm next Saturday and thn go to the movies. I think id rather do the footjob in the cinema than the park but I could maybe massage your feet in the park and even suck your toes.

I have collected 3 pairs of sandals before your ones, 2 I stole and 1 I bought. The first I got from a party where this hippy girl Carey left them near the door, she had cute feet and pink nails and her sandals were white toeloop thongs. Just like when you caught David with your sandals in your story the willing masuere I have put my dick head through the loop. I think Carey must have had her sandals a long time because they stink and taste very strong, but this doesn't stop me from licking them on a regular basis. I got the next pair from an op-shop so don't know who wore them or what their feet were like but they smell and taste nice. They are black thongs with a small heel. The last pair I stole from a friend's house, they were his mum's sandals. Her name is Renee and she has big but gorgeous feet even tough she is probably 50, I have seen her feet loads of times and get hard every time. Her thongs are black too and have very thin straps and a very flat sole, they are nearly worn through and smell and taste very strong.

I don't know why you want to know which celeb feet I like, but I have to agree withDavid and eric that Linsey Lohan has pretty feet. For me I would have to say it would be a close run thing between Tori Spelling and Hilary Duff. I couldn't choose who has better feet. Obviously Hilary is far better looking, but they both have gorgeous feet. Check out wikifeet for some pictures. They both also have a thing for thong sandals and nail polish just like you.

I love your comment about my lips and your feet and your lips and my dick. I hope I don't wake up from this amazing dream! Are we really going to meet next weekend? What shall I wear? What will you wear?

Blake – Mr sandal licker or tasty cum you choose.

I was really pleased about his positive reply, in which it looked likely that we were going to get together. I wanted to make sure that happened as this guy had somehow got under my skin and was affecting me like few have before. While he was talking about his sandal collection, he mentioned Op-shop. For those who don't know what Blake is talking about 'I got the next pair from an op-shop' an op shop is a second hand shop that gives its profits to charity. I replied as below:

Blake,

I'm not sure how to take your comment about Fiona being your type and me having small breasts, but I won't let it get to me. I'm sure you didn't mean any harm. I will be at Kings Park next Saturday at 3 p.m. right next to the war memorial. I hope you will be there too. I think we should spend some time there first so I will bring a picnic blanket. I agree that we should move onto the cinema afterwards as I think the park may be a bit too public for the some of the things that are likely to happen.

One day, I think you should show me your sandal stash. You are a naughty boy aren't you?

You should wear something that allows your cock to be pulled out easily. I think I'll wear a skirt unless you want me to wear something else? I want you to save up a few day's worth of cum so you can cum a lot when we meet. Your cock has got me all excited too, I fingered myself to your recent pictures.

Didi.

PS; I looked up wikifeet.com and checked out Tori and Hilary's feet. I could see the resemblance to my feet and especially their choice of sandals and nail varnish. As a beauty therapist I'd have to say that Tori actually has the better feet, although Hilary has the better sandal collection.

Again, I didn't have to wait long for his reply:

Hi Didi,

Don't worry I'll be ther next weekend. Sorry if I offended you with my comments I really didn't mean to. I will cum for the last time this week on Wednesday so that I have loads of cum for you on Saturday.

I will show you my sandal stash too if you want. Shall I bring any of them with me?

I have some loose shorts I could wear with baggy legs so I can get my dick out. I would like you to wear jeans if you don't mind as I have always liked seeing girls in jeans and sandals. If we are to have sex I think it should be another time after our meeting next week, then you can wear a skirt or dress.

I think you and Tori Spelling do have similar feet but you are gorgeous and she is only appealing to a few guys although I do quite fancy her.

3pm Saturday then unless you change your mind.

Blake.

We were getting closer to it really happening now. I hadn't even asked whether he would bring my sandals back as I was so caught up in the moment I forgot the reason I knew this guy in the first place. I sent him one last email:

Hi Blake,

Wednesday sounds good to me, hopefully that means you will be able to cum all over my feet, maybe even cover them completely with your tasty cum? No need to bring any of your sandal collection.

Your shorts sound fine but make sure you do without underwear too. Jeans and sandals hey? I never even thought about that as a sexy look, but if that is what you want then I will wear jeans. I will wear a pretty top though so that I look nice and girly for you! What type of thongs would you like to see my feet in?

So you fancy Tori Spelling then? Interesting choice, I suppose she is quite attractive and does seem like a nice girl. Do you fancy her because of her feet or are you attracted to her anyway? Do you think about her when you play with my sandals?

Yes 3 p. m. in the park next Saturday. I hope you turn up.

Didi

I was getting more excited with every message I received or sent. I was even mildly jealous of his crush on Tori Spelling. Saturday was going to be a good day. Blake replied again:

Didi,

I promise I will cover your feet in cum. I don't mind what thongs you wear so long as your feet are accessible in them.

I hope you aren't judging me badly for having a thing for Tori Spelling. I must admit I fancied her feet before I fancied the rest of her though. I have never thought about anyone other than you when I'm playing with your sandals. I will prove my dedication to you when we meet on Saturday.

See you then. Blake.

So that is the end of this part of the story. I will write again to tell you what happens when I get together with my sandal thief on Saturday.


Feel free to submit your comments about this story in our free foot fetish chat forum.
You can also see photo contributions from Didi here in this topic of our chat forum.