Didi – My Story
The History Behind a Foot Slut - Part 3

Published on Monday, October 4, 2010
This story was submitted by Didi.

To read this author's 1st story, click A Challenge To Make A Guy Cum With My Feet.
Feel free to submit your comments about this story in our free foot fetish chat forum.
You can also see photo contributions from Didi here in this topic of our chat forum.

Editor's note: This story has not has been edited for
errrors, so consider it to be an "as is" publication.

So to part 3:
Before reading this story, you should read some of my earlier stories, especially "Didi – my story, the history behind a foot slut part 1" and "part 2".
My relationship with VL was blossoming and we saw each other most days. We found that we shared a lot of the same interests and enjoyed each others company. There were days when he didn't even play with my feet. He was completely obsessed with them and would suck my toes or massage my feet most days, but he began to realise that there should be more to our relationship than foot fetishism. He calmed his fetish down enough so that we could enjoy other things in our time together.
Still, I loved it when he massaged my feet and having my toes sucked by him, was so nice. He told me more about his foot fetishism and the girls whose feet he'd lusted after and massaged. He told me the full story about his experience with Sandra. She was his friend's mum with whom he'd sucked her toes, massaged her feet and as he told me the full story, I learned that she'd sucked his cock and given him a footjob. VL wrote about Sandra in his story "Sandra the temptress."
It was because of Sandra and the fact she wore thong sandals a lot and had long red toenails that these became important aspects of his foot fetishism. Red toenails and thongs were what did it for him. At first he didn't want me to paint my toenails any other colour. He even got upset once because I had painted my nails pink. I told him that they were my nails and I'd paint them any colour I wanted, after all I wasn't Sandra, I was his girlfriend. He realised that he was being unreasonable and so encouraged me to try different colours. Over the next few months I wore my nails pink, purple, orange and even blue and green. VL told me that red was still his favourite colour, but that he'd developed a thing for seeing my nails painted green.
I still wore my toenails very long and although I reduced the number of toe rings I wore, I generally still wore at least one on each foot. The reason I finally cut my nails was because I had an accident whilst vacuuming of all things. I pulled the vacuum back towards me at one point and somehow managed to smash into my big toe on my right foot. I broke the nail and the only way to neaten it up was to cut it short. It was then that I realised that my toenails were ridiculously long. They were all way beyond the end of my toes. So I decided to cut them all short. VL was devastated when he saw how short I'd cut them, but he told me that my feet were still amazing and that he did in fact think they looked better with shorter nails. So although I let my nails vary in length these days, I've never let them grow as long as they used to be when I first met VL.
We had a great sex life together VL and I. But I didn't give my first footjob until we'd been together for about 4 months. He never asked me for one, but I knew he'd enjoyed the one he'd got off Sandra. One day when he was massaging my feet whilst they were still in my thong sandals, I had an idea. I wanted to give him a footjob. I still had just the one pair of black ankle strap thongs (the ones I'd brought back from England that Sam had bought for me) but by then they were so worn out, they were about to fall apart, so I thought I'd try to give them a special send off.
We were sat next to each other on my parent's sofa and we were in the house alone. I told him to get his cock out and he did as I'd asked. Not having given a footjob before, I didn't really know what to do. I just placed my feet either side of his cock and squeezed them together. Then I started rubbing up and down. VL seemed impressed as his eyes stared at my feet as they rubbed his cock. He told me that it felt great. I liked what I was doing, but with sandals on, I could really feel much. I pulled my right leg back and slipped that sandal off. I kept the left one on. I then curled my left foot around the side of his cock and placed the sole of my right foot onto his cock. Now I could feel it. I loved how hard and hot his cock felt on my sole. I started rubbing and squeezed his cock head a little between my toes.
This was the moment that I realised that I loved giving footjobs. It felt so good and I loved the reaction I got from VL, he was clearly enjoying it and his cock looked bigger than ever. I rubbed for a while and could feel his cock was starting to throb. I knew that I should have stopped rubbing, knowing that he was about to cum, but I was enjoying it so much, I kept going. VL didn't say a word, he just stared at my feet all over his cock and even as he came, apart from a grunt, he said nothing. Because we were so sexually active, he didn't cum much and what cum did shoot out of his cock landed neatly over the tops of my feet. Once his cock had stopped throbbing and his cum had stopped flowing, I pulled my feet back. He put his cock away and I pulled my feet up to my face and licked his cum off them. To this day, I still love licking freshly squirted cum off my feet.
A few days later VL came with me as I decided it was time to buy some new thongs. My black ankle strap thongs had only days left in them before they completely fell apart. I had even gone back to wearing my old natural leather roman sandals most days. I even borrowed some of my mum's thongs on the days when I didn't fancy wearing the roman sandals. VL was impressed with the way my feet looked in my mum's thongs. Most of my Mum's sandals had a heel and the ones that I had borrowed had a wedge heel. VL wanted me to get some in that style.
We went into a few shoe shops and I tried various thongs on. VL was in heaven watching me walk up and down in lots of different thongs. I had tried on about 20 pairs, but none of them were as comfortable as my old ones or my mum's ones for that matter. Eventually I found a pair I liked. They were red patent leather thongs, with a 2 inch wedge heel. They were simple but very pretty and they were so comfortable. I loved them and so did VL. They were expensive, but we both agreed that they were worth it. So VL bought them for me. Below is a collage of pictures of them that we took when I first got them. As you can see from the pictures, I had started wearing my nails red again. They went especially well with these red sandals. But purple nails looked good with them too and I wore my nails purple as often as I did red when I wore these sandals. You can also see in the pictures that I still wore toe rings on my toes. I wore my original two that Zoe had bought for me. I just swapped them around different toes depending on my mood.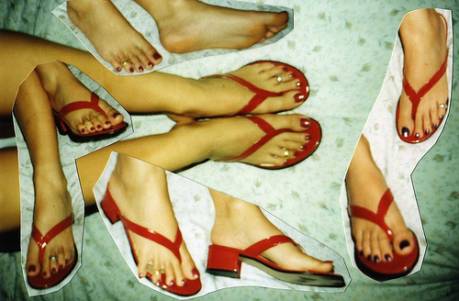 (The photo above is already at its largest size)

My new red thongs were very popular. VL loved them, most of my friends commented on how cute they were, even my Mum noticed how pretty they were and asked to try them on. I let her try them and as she walked up and down our living room in them, I realised just how sexy they looked. Luckily VL wasn't around when she tried them, I think seeing these sexy thongs on my feet and then my Mum's in the same room would have caused a reaction that could have got him into trouble! My Mum even tried to buy a pair, but the shop had run out. I was relieved to hear this as I'm not sure if VL could have controlled himself seeing me and my Mum wearing the same sexy thongs at the same time.
So, just as my first pair of thongs expired, I had found a new pair and they revealed even more of my feet and were even sexier than the old ones. I made the same mistake with these ones as I did with the previous thongs, I wore them too much. Over the years they were repaired numerous times, the thong post especially had to be repaired almost every month after about the first three months, but they looked so good and felt so comfortable, I kept getting them fixed. I probably had them for about six years before they eventually got to the point that they couldn't be repaired, but by then I had lots of other thong sandals, like my next pair below.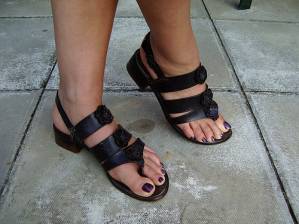 (The photo above is already at its largest size)
I bought these roman style thongs just a couple of months after getting the red ones. Whilst shopping with my Mum, I bought these brown ones and my Mum bought exactly the same pair in black. I still have my ones to this day. They are now fourteen years old. The have walked on the soils of many countries such as all over Australia, UK, Turkey, Egypt, Tunisia, France, Spain and Switzerland. They have been repaired countless times, but were and are good quality. As I have over thirty pairs of thongs these days, the load gets spread out more evenly! My Mum's ones lasted barely twelve months, but she did wear them almost daily in the restaurant. I know VL licked my ones clean a number of times and one of the reasons why my Mum's ones expired was because he licked them clean a few too many times too!
Another thing that happened with VL was when he gave my mum's feet a massage (and if I hadn't been there, who knows what else!). This occurrence contributed to my thinking that he was helplessly addicted to female feet and couldn't be trusted not to drool over another woman's pretty feet.
VL and I were at my parent's house and were watching TV. Naturally my feet were on VL's lap and he had been massaging them and sucking my toes. My mum came home from my parent's restaurant after doing the lunchtime serving and was coming home for a couple of hours rest before going back for the evening. As I explained in parts 1 and 2 of this story, my mum always wears thong sandals and this particular day was no exception. Her sandals no longer exist (they've long since worn out), but I found a picture on the internet of some sandals that are very similar to the one's my mum was wearing. The picture below shows just how sexy they were. Obviously the picture doesn't show my mum's (very sexy) feet in them or the wear to them or the sole and toe prints to the insole that got VL so excited. But they are a good likeness.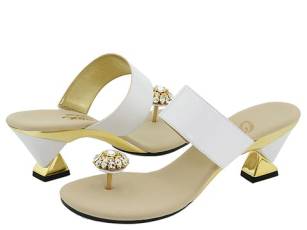 (The photo above is already at its largest size)
At the time she'd had them about six months and with her being on her feet all day at the restaurant that was about as long as a smart pair of sandals would last her before either being relegated to wearing around the house only or being thrown out. My mum came into the lounge room and my feet were still on VL's lap and he was still massaging them.
"Wow, that looks really good VL, you couldn't massage mine for me could you? My feet are killing me!" my mum asked, knowing nothing about his foot fetishism, but knowing that he was happy to massage my feet. I'd also told her how good he was at it.
"OK, as soon as I've finished massaging Didi's, I'll do yours Mrs (He called me mum by our family name, but I don't want to publish it). He replied all too quickly.
I wasn't surprised that he'd jump at the chance to play with my mum's feet. Over the previous few months he'd met my mum quite a few times and they got along well. He had told me that her feet were gorgeous (although he said not quite as gorgeous as mine!). I'd seen him glance at her feet at every opportunity and he'd licked a couple of pairs of her thong sandals clean in my presence. I'm not sure whether he'd had the chance to lick the sandals above previously, but he has always maintained that he hadn't.
So VL finished massaging my feet while my mum went off and poured herself a glass of red wine. She came back into the lounge room and sat down in her reclining armchair and eased back into it, releasing the footrest and reclining back with her feet elevated off the floor. She placed her wine glass down on the table next her chair and I also noticed she'd brought her eye mask with her.
"Would you mind doing it here VL?" she asked "I find this chair so comfortable"
"No, that's fine, I don't mind kneeling on the floor" VL replied, sounding a bit too excited, but obviously not to the point where my mum picked up on it.
"I really appreciate you doing this VL, my feet are so tired and Didi tells me you are really good at giving foot massages." She gratefully replied.
She took a mouthful of her wine and placed the glass back onto the table before picking up her eye mask and placing it on her eyes.
"If I fall asleep Didi, make sure you wake me before 5pm, I've got to get back to the restaurant by 5.30" she asked me.
"No problem mum, but I doubt VL's massage will send you to sleep, he's normally really firm with my feet" I replied almost directing this statement to VL more than her.
"I feel so worn out, I probably will anyway, so don't forget to wake me." She replied sounding exhausted.
VL got down on his knees and gently slipped off her thongs. He bent forward and almost touched his nose to her soles. I saw him take a deep sniff and he turned to me and mouthed 'they smell wonderful'. My mum obviously didn't see this as the eye mask was protecting her from seeing what this foot fanatic was doing around her feet.
Before he even started massaging her feet, he'd lifted her right sandal to his face and started thoroughly licking the insole. He closed his eyes and I knew he was what he calls 'in feet heaven'. I didn't mind what he was doing, I understood his fetish and was tolerant towards it, especially as I benefited from regular foot massages and having my toes sucked almost daily. He started rubbing the top of her left foot with the fingers of his right hand as he continued licking her foot sweat from her right thong. His eyes remained closed and he didn't open them until he'd licked that thong all over.
"That feels so nice" my mum whispered as VL started rubbing his thumb up and down the arch of her left foot.
He finished with the right thong and placed it on the floor before moving on and thoroughly licking the left thong clean too. Once he'd licked them both clean he started using both hands on her left foot.
He massaged her foot firmly and completely for about five minutes before he moved onto her right foot. I could see he was enjoying at as much as she was. They both had smiles on their faces and I suspected that my mum had in fact dozed off. Using his fingers he gently rubbed between her toes and she didn't even flinch. I knew he was thinking about licking her feet. I couldn't let him do that, he may get caught and that would be bad news for all of us. So I quietly got down onto the floor with him.
"Don't do it!" I whispered in his ear.
"I won't but I'd really like to." He whispered back.
I reached over to his crotch and grabbed his balls with my right hand and gave a firm squeeze.
"If you do, it's all over between us" I whispered firmly in his ear, still squeezing his balls.
"Ok, Ok, I won't" he replied, his whisper sounding like he was in pain.
I released his balls and sat back on the sofa. VL finished massaging her feet and sat back on the sofa with me.
"I really want to cum on her feet" He whispered to me as he sat next to me.
"Are you crazy?" I replied astonished "How would you explain that if she woke up.
"I don't know, but I want to do it so much, I nearly came in my pants while massaging her feet." He replied.
"I'm not going to let you do that. She's my mum and you're supposed to be in love with my feet not hers" I replied surprised at his honesty and desperation!
"What if I just rubbed my dick on her soles?" He said, not giving up.
"You can't be trusted not to cum, just like when I sandal slapped you when we first met and you nearly came all over the carpet. What if you can't hold back and she wakes up just as your cock erupts and cum runs all over her feet" I replied sternly.
"I promise I won't cum on her, I'll stop as soon as I feel any sign of ejaculation" He replied, not giving up.
"You better had mister, otherwise we are finished" I said giving him a final warning.
I couldn't believe what I was allowing him to do. I was allowing my boyfriend to rub his erect cock all over my sleeping mum's foot. I must have been crazy and it nearly all went horribly wrong.
He quickly got back onto the floor before I could change my mind and he gently started to rub her soles with his right hand. She didn't seem to notice and it seemed like she was fast asleep. VL fumbled around with his left hand and pulled his erect cock out of his jeans. As he continued rubbing her left sole with his right hand, he started rubbing his cock-head up and down her right sole using his left hand. I quietly got down on the floor to the left of him and grabbed his cock from him and continued rubbing it up and down my mum's sole.
I wanted to make sure that as soon as I felt his cock throb, I would be able to pull his cock away and stop it shooting cum all over her foot. Just as I was getting into a rhythm, pre-cum formed at the tip of his cock and smeared down her sole. She seemed to notice the change in sensation and shuffled slightly in her seat, she scrunched her toes just as his cock-head rubbed up under them and she very briefly squeezed his cock-head under her toes. Luckily for all of us she relaxed her foot and released his cock before she realised what it was and before he sprayed cum all over her foot.
His cock started throbbing, so I gripped it as tightly as I could to stop it spraying everywhere and realising there was nowhere else I could safely let him cum, I sucked down onto his cock and released my grip to allow him to cum into my mouth. His cock throbbed violently and although he didn't cum too much, it was still a mouthful. As soon as I felt it stop throbbing, I pulled my head back and without giving him the chance to do anything else, I pushed his cock back into his jeans and quietly and slowly zipped up his fly. He was still rubbing her left foot with his right hand, so I picked up his left and placed it onto her right foot, encouraging him to massage them evenly.
Once he was satisfied that her feet were thoroughly massaged he got up again and sat down next to me on the sofa. He thanked me for letting him massage my mum's feet and for allowing him to rub his cock over her soles. I told him that although I didn't mind on this occasion, I wouldn't allow it to happen again.
At this stage I fully understood his foot fetish and although I enjoyed participating, his desperation for all things female foot related started to wear on our relationship. We have remained friends ever since and if you've read any of my other stories you'll know that we still have our foot fun together. I just couldn't handle his attention to feet all the time.
That's the end of part 3. You've read how my sandal collection started to grow and how VL's foot fetish rubbed off onto me. You've also heard that although VL and I had lots of passion and lust for each other, his raging foot fetishism was just too much.

Feel free to submit your comments about this story in our free foot fetish chat forum.
You can also see photo contributions from Didi here in this topic of our chat forum.