There are two different contributors who are featured for the update of Friday, July 17, 2015.

The 8 photos & 2 videos below are from Paul who's chose to be anonymous.

You're encouraged to post your comments here in their topic of our chat forum.

Paraphrasing a bit ...

Paul says, "Hi All Foot Lovers. With my busy working life, I don't have much time
to socialize with the neighourhood, but one Saturday morning I made an exception."

"My blonde neighbour knocked on my door, banging me for help. I looked
down at her feet and cordially said 'yes' but my cock had a different idea."

"I perved on her sexy soles the whole time. After the first break, I offered to give her feet
a massage. I also talked about my foot fantasy with high heels. After a drink came some
kissing, my cock got involved, and we went from there. Her footjob was delicious!!!"

"I commented on her not having painted toes with nail polish. 'Not a problem,' I
told her. After you settle in to your new house, you can come visit me, and I can
put nail polish on for you. Remember to bring a pair of your sexy high heel shoes."

" 'Okay, it's a deal!' She told me."

"What a way to begin the weekend, I thought.
Then I wondered what might be coming up next."
The 8 photos above & the 2 videos below were uploaded on Friday, July 17, 2015.
Photos 6-8 above & the 2 videos below are featured on our Footjobs 71 page.
Photos 1 & 2 above are featured on our Miscellaneous Photos 56 page.
Photos 5 & 6 above are featured on our Sole Shots 61 page.
About the videos below, Paul says, "Neighbour footjob."
1st Footjob Video

This flash (flv) video is 1,557 KB. It's 18 seconds long.

Different browsers utilize the large thumbnail below to either
open the video in a new window, or download it onto your device.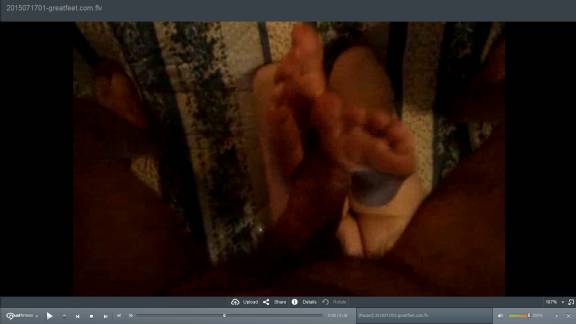 Or you can play it in our video player below ...


For those who want it, here is this video clips's direct link.
Use the menu of your mouse to download it to your computer.