Note: There are 2 photo sets, and 1 movie published for this date of Monday, October 16, 2006.
These 21 photos, and 1 movie are from Bill & Valerie.
Bill says, "We decided to do an oil-free, more natural set after several requests.
Also included is a sexy, solo clip of Val's kinky soles. Enjoy and send your comments."

Bill has also made some comments of his own in our chat forum, so
check that topic out here. Membership is free and guests are welcomed.
These 21 photos above, and movie below were uploaded on Monday, October 16, 2006.
Photos 1-5 are featured on our Footjobs 39 page.
Photos 6-21, and the movie below are featured on our Sole Shots 23 page.
This movie file is here (click the link below to access that page):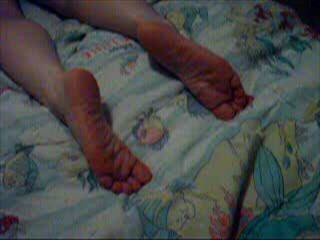 (Opens in a new window)

These 34 photos are from Necron59.
He says, "Hi there! Well, after a long time away, I figured I'd send a few
more pics of my girlfriend's feet to the board. I thought I'd start out with
some more 'feet as food' pics that we recently did since that thread (one of my
favorites!) has been quiet for far too long. We sure had fun making them!

"

These photos were previewed here in our foot fetish chat forum.

For you feet as food fans, you're going to love these!

These 34 photos were uploaded on Sunday, October 15, 2006.
They are featured on our Miscellaneous Photos 14 page.
1-888-222-1371
United States & Canada
Foot fetish phone line & more! Call now!
*** Call for FREE info ***



*** Call for FREE info ***
0983-939-2210 x 1144
United Kingdom
Any advertisement MUST include the price per minute of
£1.53 and the customer service number of 0203 3623009.